ToG Ships in Their Natural Habitat of Empire of Storms
Hello!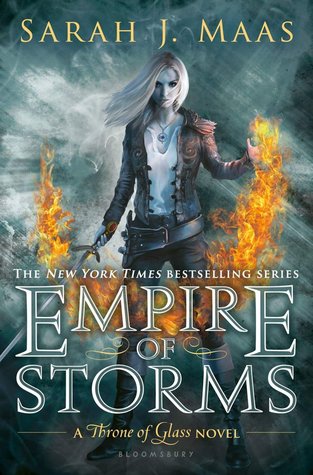 So earlier this week, I posted a review for Sarah J Maas's latest book in the
Throne of Glass
series,
Empire of Storms
(if you would like to read it, 'tis here: http://allbooksandtea.blogspot.com/2016/10/empire-of-storms-review-with-spoilers.html). In a summary, it was so freaking fantastic!!! In my review though, there were many things that I did not touch on because I felt like there was too much to discuss in one post. Especially about the ships. I'm not even kidding you guys, there are enough ships in this series at this point that I care about so much that they fill up quite a good chunk of my fleet.
There are 4: Rowaelin, Elorcan (or Lorild, whichever one you use), Lysaedion, and Manorian. Right now, I'm just going to talk about the ships in their context in
Empire of Storms
. So if you haven't read this book yet, DO NOT read this post- there will be spoilers. (PSA: Shoutout to Chaolryn, because I ship them too, they just aren't in this book).
ROWAELIN:
As I just stated, this is only going to be about EoS, but if you want to read all the thoughts on Rowaelin, you may go here: http://allbooksandtea.blogspot.com/2016/08/rowaelin-throne-of-glass-ship-in-my.html
SO MANY THINGS I WAS CRYING SEVERAL TIMES AND OH MY GOD I SIMPLY CAN'T!!!
I FREAKING CALLED IT
Please excuse the chaos above. But I did. freaking. call. it! They're mates. It is official. Other shippers, sorry (?). Lol I am not sorry at all.
This ship.... will be the death of me. I do wish there were more Rowaelin moments in the book, but the ones that were there were f***ing amazing.
***coughbeachscenecough***
***coughnighttimecough***
***coughmiladycough***
The single greatest thing that absolutely wrecked me from the inside out was when Aelin was already taken by Meave, and Rowan is holding a knife to Lorcan's throat, and he says,
"Where is my wife?"
. Goodbye world. I have died by the words of Rowan Whitethorn and the actions of Rowaelin. It was quite a pleasant death though as I know the my ship is endgame and I was right. :)
ELORCAN:
This was the ship that caught me off guard. In the beginning of their story, I liked it, but then over the course of the book they just kept becoming more and more important. Of all of the ships, I think this one is the "cutest". I use that term loosely, because it is Lorcan and Elide and both of these characters are so incredibly strong in their own ways.
One of the best scenes for this ship was when they were in the marshy area and Aelin was about to be a boss-ass bitch. Lorcan just, with a one track mind, tackles Elide to the ground and shields them, nearly draining is magic. And then he gets attacked. But Elide stops Fenrys And she gets hurt. And Lorcan freaks the fuck out. And I freaked the fuck out. And Fenrys is freaking the fuck out. SO. MANY. FEELS. And of course, this whole scenario takes place after Elide offers Lorcan to live in Perrnath. Kill me. It'd be less painful. That whole scene. I died. Several times.
LYSAEDION:
I was already kinda shipping these guys based on the almost-absolutely-nothing-canons in the other books. And, bless everything, there were so many moments and places of development for this ship! I was so excited when things started to outright happen between the two of them and they were no longer dancing around each other.
THE PART WHERE AEDION SAYS HE'S GOING TO MARRY HER! Of all the things this was, again, one of the best. I love how he says it so casually, like it's a known fact. Like, "Who else would I marry? Isn't it obvious?" And it was heart wrenching when at the end he calls her nasty names because she knew Aelin's plans. My heart may have actually splintered and shattered in my chest. Of all my ships in this series, I think this one is the rockiest. Yes, Aelin is being help captive and tortured by Meave, one of the most powerful beings on the planet. But Aedion cares so deeply for his cousin and trusted Lysandra so much that I'm worried that he will not be able to recover from this betrayal. :( I'm still hoping though.
MANORIAN:
This was another one that I saw coming as soon as Celorian went down. It only makes snese that the only guy that could ever keep up with Manon is the guy that is hella powerful, hella sassy, and has literally been through demonic possession. It just makes sense. I was NOT expecting the suddenness of the intensity in their relationship. I totally approve- I just wasn't expecting it.
And of all the characters to be kinky??? DORIAN???!?!?!! What happened to my little child that was super sweet and gave Aelin books and chocolates??? DORIAN??!??!?!?! I did not see that coming. At. All. It also kinda surprised me that Manon
let
him. Like I said earlier, who else would be able to keep up with Manon and be able to be with her, other than Dorian freaking Havilliard.
There were so many more moments that each of these ships had in the book!!!! Hopefully, I will be able to add other posts about the other ships and add them to my fleet of ships formally. Guys and gals,
Empire of Storms
is a prime example of why I am the fangirl that I am. From the beginning, it is all amazing, and I hope that you guys will enjoy it just as much. :)
Thanks for reading!